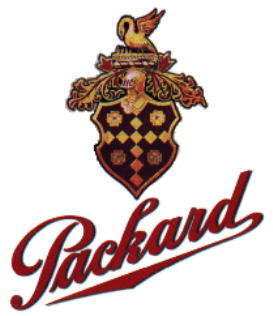 Ask the man who owns one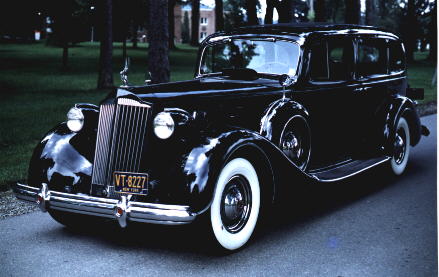 At Keystone Junior College, Fleetville, PA.
Looking over the Packard hood near Nicholson, PA.
Getting ready for a car show.
I am the third owner/custodian of this majestic Packard seven passenger limousine having acquired it in 1972. It was previously in the collection of a couple who acquired it from the original owner in 1956. The original lady owner, a Dupont, was a prominent resident of Greenville Delaware. The family lived on a large estate, and owned several other fine automobiles including a companion Packard Twelve coupe, a 1930 Deusenburg SJ, and a new Lincoln Continental Mark II at the time it was sold to the second owner. This Packard was chaufeur driven and maintained. The owners initials were inscribed in a shield on the rear doors.
I describe the condition of the car as being like, "a good used car". The car was used regularly until the owners death in 1955 and shows that it was well maintained but does have a patina of normal use. Everything is original save the left side running board cover and the paint on the headlights. Let me define the term "original" as I use the term. By original I mean that it is what came from the factory, not similar, not as good as, but the real Packard stuff. The paint is a little thin in a few areas due to over cleaning. Chauffeured cars are commonly cleaned before every use and suffer from it. The front interior is done in black leather, typical of formal automobiles. The rear compartment is done in a rich tan broadcloth and is near mint, showing only a slight reduction of the nap on the lady's side seat cushion. The carpet is genuine foam rubber backed Wilton Moss Tread, and is in almost perfect condition. The passenger compartment is separated from the driver by a roll up division window and features: an intercom to the driver, twin vanities, one for ladies the other for gentlemen, an 8 day clock, a foot rail, a robe rail and robe, shades on all windows, and two folding "jump" seats".
Some of the specifications of the car are:
Model 1508
144" wheel base
5600 lbs curb weight
485 CI displacement, 75 deg. V12 engine
Separate ignition system for each bank of 6 cylinders
10 gallon radiator capacity
12 quart crankcase capacity
30 gallon fuel tank
Dual sidemounted spare tires with mirrors
Folding trunk rack
Radio and heater
Vacuum assisted power brakes and clutch
Electric clock for driver, 8 day clock for passenger
Right and left side glove compartments
We have driven our Packard over 10 thousand miles with complete comfort and reliability. I hope you have enjoyed seeing the Packard and I welcome your comments.