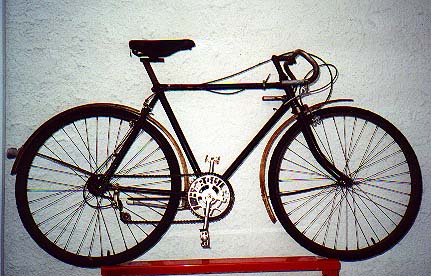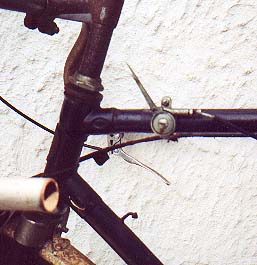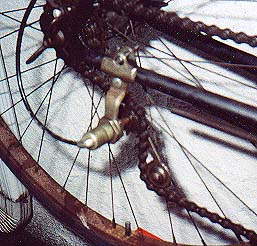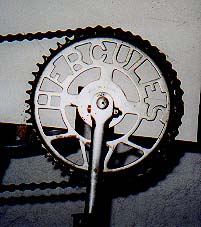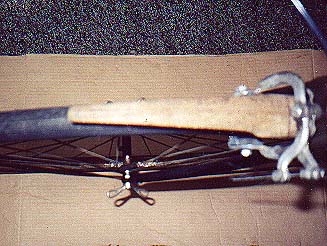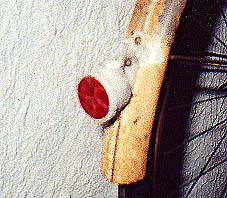 19?? HERCULES, SERIAL NUMBER SG 3722
I found this vintage Hercules bicycle in a bike shop in Bradenton FL in Jan. 2000. It had been brought to the shop by a man who discovered it in a shed while preparing his recently deceased father's home for sale. The shop owner had no interest in it or knowledge of bikes of this type. He was very anxious to sell and I bought it for a very reasonable price.
The following describes the features of the bike;
Lugged 21 inch frame
26 x 1 1/4 dunlop rims
Cottered crank
Hercules script single chain wheel
Rat trap pedals
Drop bars
Side pull caliper brakes
Dunlop Drilastic rubber seat
Flip Flop rear hub

3 speed freewheel
fixed gear alternate side

Linear sliding derallier
Top bar mounted shifter
The head badge script reads: "HERCULES CYCLE AND MOTOR CO. LTD. BRITANNIA WKS BIRMINGHAM
All components are steel
Nickel plating is used throughout
The chain tensioner utilizes a screen door type spring to maintain chain tension. The derallier is a simple, in and out, sliding device as opposed to the 4 bar linkage type used today. The seat tube is L shaped with the seat mounting bar oriented horizontally toward the handlebars. The seat clamps on in typical fashion and can be adjusted fore and aft.
The bike is in mixed condition. The frame, forks, fenders, and all other components are in good condition with no dents or damage of any kind. There is no rust on the frame and the paint is intact. Plated parts are generally in good condition with some light rust with the exception of the seat tube, stem, and rims which are badly rusted. The bike rides very well but with heavy steering resulting from the substantial fork rake angle. The ride is very much like a Raleigh DL=1 in that respect.
My plans for the bike are to clean it thoroughly, chemically remove as much rust as possible, and then bring it to fully operational condition. There is only one way to restore a bike of this type and that is to factory condition which would require a great deal of money, work, and time. I feel that some things should be preserved with the patina of use left intact revealing its experience and history.
Note: Hercules was acquired by Raleigh in 1960. Click here to look at a later Raleigh made Hercules.
I hope you enjoyed looking at this rare old bicycle and I welcome your comments.
NEXT BIKE
RETURN TO VARIOUS MAKES GALLERY