A FRAME I COULDN'T RESIST. The Fuji DS Custom bike project started when I spotted a NOS Fuji DESIGN SERIES frame and forks in a shop in Bradenton, Florida in Dec. 1998. The designation, "DESIGN SERIES" indicates that the frame is provided for those who want to build a bike to their own specifications. According to the shop manager the frame had been lost in the storage room for years. The frame was so striking that I couldn't resist buying it. The colors are deep metallic maroon with stays and forks in mauve. The graphics are stunning. A series of colorful 1/2" square icons adorn each side of the down tube. The flags of Japan and America appear on the seat tube.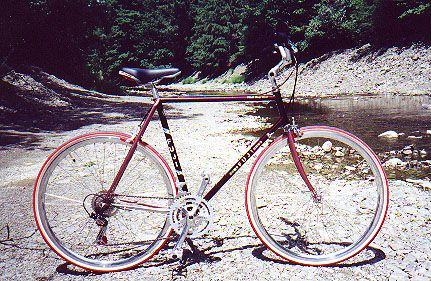 COMPONENTS
FRAME-Fuji DESIGN SERIES. Chrome molybdenum quad butted 9658 tubing.
WHEELS-Alloy aero style by Arrow; 700mm.
HUBS-Campagnola.
TIRES-Panaracer Category Elite 700 x 26.
CRANK SET-Shimano RX 100, 33T, 42T, 52T.
BOTTOM BRACKET-Shimano Deore DX
FREE WHEEL-Shimano 7 speed Mega Range, 14T TO 34T
FRONT DERAILLIER-Shimano RSX.
REAR DERAILLIER-Shimano Mega Range
SHIFTERS-Shimano Rapidfire.
BRAKE ARCHES-Shimano 600.
BRAKE PADS-Kool Stop red.
HANDLE BARS-tbd Alloy.
STEM-Zoom adjustable angle.
HEADSET-Hattaswan
SADDLE-Specialized Body Geometry.
KICKSTAND-Greenfield alloy.
BOTTLE CAGE-Specialized
DEFINING THE CHARACTERISTICS . As soon as I had returned to my home in NY, I went to my favorite bike shop and consulted with the owner, explaining to him the characteristics of the bike I had in mind. I wanted a hybrid with the form of a road bike, the riding stance of a city bike, and the gearing of an ATB. In short, a bike that is easy on the back, fast and light, and could climb steep hills. With those characteristics in mind we began searching the catalogs for components.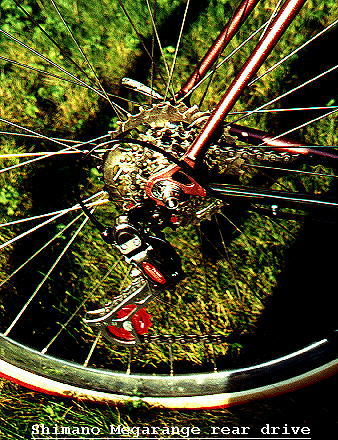 CHRISTMAS IN APRIL Once we had decided on the components the fun began; i.e., ordering and receiving all those beautiful goodies. As I began to mount components on the frame it became obvious that some were not suitable due mainly to changes in my thinking along the way. The area that I changed the most was the drive train and shifters. The first rear derallier we chose could not handle the 20 tooth spread of the freewheel cogs. I had initially specified Sram twist grip shifters but after trying them I didn't like the action at all, so I exchanged them for Shimano Rapidfires which are perfect. I also changed to an adjustable stem after I had assembled the bike in order to achieve a more upright stance. After mounting beige wall tires I decided I wanted red banded tires to coordinate with the frame colors. I not only wanted a bike with specific mechanical characteristics but with asthetic properties as well.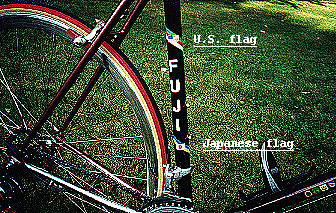 FINAL ASSEMBLY This is my favorite part of building a bike. I spend a lot of time at this stage of a project to savor the pleasure of bringing together all the parts in a logical sequence to form a beautiful and functional machine. I also enjoy routing the cables and attaching them to the shifting and braking system controls. After installing the derailliers I decided to take the bike to the shop and let an expert set them up properly. I do not regret that decision. Finally the assembly was completed. Next came testing and final adjustments.

THE FIRST TEST RUN The first test run was on July 10, 1999. I chose a quiet area of our village that is mainly flat but has a few short but steep hills. On the flats the Fuji fairly flys due to its lightness, precision bearings, and high pressure tires. The shifting, my major concern, was flawless. After a few miles in the flats practicing shifting I approached the first hill. I used all the gears descending as needed until low/low was engaged. It was a joy to climb a hill with so little effort. Of course I had to spin at a high rate in order to maintain balance. As I rode it became apparent that the seat was too high and tilted back too much. I made these adjustments on the spot. The brakes were quite effective but needed to be adjusted to eliminate squeal. This I did in the shop at home.

PERFORMANCE

I am extremely pleased with the bike. It feels much lighter than its 24 pounds and the ride is much more supple than I anticipated. As mentioned above the index shifters are a joy of precision. The riding position can be altered from almost upright to a moderate road bike stance due in part to the seat adjustment range but primarily due to the Zoom stem which has a large range of adjustment. The Koolstop brake pads do their job well and quietly with no fade on long hills. The Rapidfire shifters with two levers are the best I've used. "A good bike is a joy forever".

CREDITS

I would like to thank Thomas Knotts of Bayshore Bicycles in Bradenton Florida for his advice in the early stages of the project. I also want to thank Kevin Babcock of Babcock Bicycles in Endicott NY for his help in selecting and procuring the components. Thanks also to John of Babcock bikes for setting up the shifting systems.

I hope you enjoyed looking at my Fuji DS Custom and I welcome your comments.